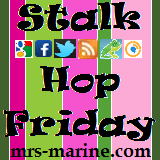 Welcome to "Stalk Hop Friday"! It's hosted at: Mrs. Marine and the Tiny Troops, Novel Bloggers, Two Peas in a Pie, and Aspergian Tales! This one is a little different from the usual, instead of just following on Google Friend Connect (GFC), each week the "Follow Theme" will rotate to something different! There will be two linky's each week, one for the Theme and one for GFC!
So everyone has a chance to participate!
**The RULES**
**If you're a new follower be sure to leave a comment and I will follow you back (it may take me a day or two)
**Hop around the Links ("Stalk" each other) Follow others, Follow Back, have fun!
GFC Linky: Follow the Host Blogs
Mrs. Marine and the Tiny Troops
Novel Bloggers
Two Peas in a Pie
Aspergian Tales
Link directly to your Blog post about "Stalk Hop Friday" or Friday Follow below!
**Please grab the Badge to put in your post, help spread the word and make this hop big!!
Check out this post
Sudden Moves.
-----------------------------------
The Book Blogger Hop is a place just for book bloggers and readers to connect and share our love of the written word! This weekly BOOK PARTY is an awesome opportunity for book bloggers to connect with other book lovers, make new friends, support each other, and generally just share our love of books! It will also give blog readers a chance to find other book blogs to read! So, grab the logo, post about the Hop on your blog, and start HOPPING through the list of blogs that are posted in the Linky list below!!
The Hop lasts Friday-Monday every week, so if you don't have time to Hop today, come back later and join the fun! This is a weekly event! And stop back throughout the weekend to see all the new blogs that are added! We get over 200 links every week!!
"Tell us about one of your posts from this week and give us a link so we can read it (review or otherwise)!"
Yesterday I reviewed an amazing Young Adult novel,
Sudden Moves
, by Kelli Sue Landon. See my review
here
. My author interview is
posted here
.