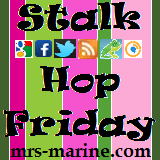 Welcome to
"Stalk Hop Friday"!
Blog hops are a great way to gain more followers! This hop follows in EVERY way: Google Friend Connect, Facebook, Twitter, Feed, Blog Frog, Networked Blogs! Please Link directly to your Blog post about "Stalk Hop Friday" or Friday Follow.
** Please grab the Badge to put in your post, help spread the word and make this hop big!!
** It's a lot easier for others to leave a comment and follow you back if they have a specific post to comment on.
Coming Soon: Book Tour for "Lessons From the Concrete Garden" by Kurtis Smith!! Check back soon.
In the spirit of the Twitter Friday Follow, the

Book Blogger Hop

is a place just for book bloggers and readers to connect and share our love of the written word! This weekly

BOOK PARTY

is an awesome opportunity for book bloggers to connect with other book lovers, make new friends, support each other, and generally just share our love of books! It will also give blog readers a chance to find other book blogs to read! So, grab the logo, post about the Hop on your blog, and start HOPPING through the list of blogs.
This week's question comes from Jen B. who blogs at I Read Banned Books:
"Do you ever wish you would have named your blog something different?"
Sometimes I wish I had gone with something more creative, like Crazed Bookaholic perhaps. My Bookshelf is perhaps rather run of the mill? Anyway, it's out there now so I don't want to change it after all the time and effort I've put into it. So there you be, My Bookshelf! :)
This meme is hosted by Crazy for Books.