In My Mailbox is a weekly bookish meme hosted by
The Story Siren
each Monday. It's a bit of a tease, really, as you see what everyone has received, borrowed or purchased. It's an enticement to add to your own list of must-reads.
In My Mailbox: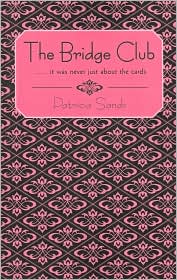 The Bridge Club
(signed by the author!)
by Canadian author Patricia Sands
I won a copy of this book at fReado.
The author's words: "This is a novel for anyone who values friendship. I don't mean simply the "Hi, how are you?" type of friendship but rather the kind that weathers all sorts of storms, unselfishly celebrates triumphs, and hums along year after year with never an unkind word. It does exist.
If you have such a friendship in your life you will relate to the women in The Bridge Club. If you don't, perhaps the story will inspire you to search for it."
Salt Bride
(signed by the author!)
by Australian author Lucinda Brant
I won a copy at LibraryThing!
(from LibraryThing)

"1763 England: When the Earl of Salt Hendon marries squire's daughter Jane Despard, Society is aghast. Forced by circumstance into a marriage neither wants, the newlyweds must overcome a secret past of heartache and misery to fall in love all over again. Meanwhile, a sinister family opposition will go to any lengths, even murder, to tear the marriage asunder."
before the last all clear
by Ray Evans
(signed by the author)
Sent by the author for review
"During World War Two around three and a half million British children were evacuated away from possible air raids in the big cities in one of the largest social upheavals Great Britain has ever seen. One of those children was Ray Evans."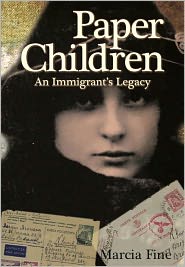 Paper Children
by Marcia Fine
(signed by the author. Includes a bookmark and author's business card)
Copy provided by the author and Bostick Communications for review purposes
Driven by cataclysmic world events, the story encompasses the lives of three generations of women.

In Book One, Paulina, the privileged daughter of aristocratic parents, reluctantly follows her driven businessman husband to America in 1929. From a vantage point in New York she endures a difficult marriage and slowly becomes aware of the destruction of her large extend- ed family in Poland as the Nazis tighten their grip on Europe.

Book Two begins in 1940 following Paulina's daughter, Sarah, as she pursues a career in photography. Sent on assignment to the Displaced Persons camps in Europe, Sarah is shaken loose from her faith and pursues a hedonistic path.

The Third book deals with Mimi, Sarah's daughter. A solitary young woman, she becomes curious about the family's past. She explores the Holocaust and searches for her roots. In a confrontational scene Paulina hands over her family's pre-war correspondence that she calls her "Paper Children."

Readers Guide Included.
What's in your mailbox? Please comment with a link to your blog so I can drop in. Happy reading!