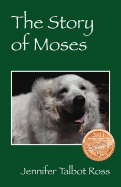 The Story of Moses
Author: Jennifer Talbot Ross
Publisher: Outskirts Press, Inc.
Copyright: 2011
Pages: 139
Includes photos, Introduction and Appendix
Genre: Pets/Dogs/General (non-fiction)
ISBN 978-1-4327-6492-0
http://outskirtspress.com/thestoryofmoses
Source: a copy was supplied by the author and Bostick Communications in exchange for an honest and unbiased review.
Copies of this book are available through Amazon, Barnes & Noble and Outskirts Press.
(From the press release)
"From surviving the wilds of the Texas Hill Country to a devastating battle with cancer, this is the story of Moses -- a beautiful, big, white dog who, form all indications, began his life as a livestock guard dog on a ranch in Texas (as so many of his breed, the Great Pyrenees). Moses was taken in by a pet rescue group after having wandered onto a ranch in central Texas...homeless. After a few short months in foster care, Moses found his forever family and the road to immortality through their love and devotion.
In an authentic voice, the author tells the story of her beloved dog, Moses. Fate brought them together and something terrible ended their story far too soon.
The Story of Moses recounts how Moses gained celebrity with friends, neighbours, and strangers and earned the love and trust of both his human and four-legged family. As Moses' illness is discovered and advances, life unravels like a loose thread in a well-worn sweater.
But Moses' story is much, much more. It is the story of joy and hope and sorrow. It is the story of the wonderful dogs that came before, opening the door for Moses to walk through. It is the story of those left to remember and cherish. It is the story of survival in the midst of great loss. It is knowing that, however painful, love remains and is the ultimate blessing....."
My thoughts: The Story of Moses is a heartfelt tribute of a dog owner to her wonderful beloved pets, those who shared her home before Moses arrived in their lives as well as precious Moses.
The Story of Moses is written almost more like journal entries, rather than a fluid flowing story. At first this was distracting for me, but as I became accustomed to Jennifer Talbot Ross' style of writing, I overlooked this and was able to revel in the stories of these wonderful animals she shared her home with. The Story of Moses, beyond sharing these heartfelt anecdotes, also touches on an important subject, that of canine rescue societies and the important work they do.
If you are a dog lover, The Story of Moses will be one you can relate to. You will smile at the antics of puppies, shake your head over their mischief, and shed a few tears with the author. It made me even more thankful to share our home with our canine friends.
Rated 3/5