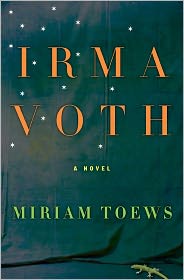 Irma Voth
Author: Miriam Toews
Published: 2011
Publisher: Harper Collins Publishers
Pages: 255
Genre: fiction
ISBN 9780062070180
Source: I was provided an ARC for review purposes by TLC book tour which did not influence this review in any manner. My opinion is my own.
http://tlcbooktours.com/2011/08/miriam-toews-author-of-irma-voth-on-tour-september-2011/
Book Summary: "That rare coming-of-age story able to blend the dark with the uplifting, Irma Voth follows a young Mennonite woman, vulnerable yet wise beyond her years, who carries a terrible family secret with her on a remarkable journey to survival and redemption.
Nineteen-year-old Irma lives in a rural Mennonite community in Mexico. She has already been cast out of her family for marrying a young Mexican ne'er-do-well she barely knows, although she remains close to her rebellious younger sister and yearns for the lost intimacy with her mother. With a husband who proves elusive and often absent, a punishing father, and a faith in God damaged beyond repair, Irma appears trapped in an untenable and desperate situation. When a celebrated Mexican filmmaker and his crew arrive from Mexico City to make a movie about the insular community in which she was raised, Irma is immediately drawn to the outsiders and is soon hired as a translator on the set. But her father, intractable and domineering, is determined to destroy the film and get rid of the interlopers. His action sets Irma on an irrevocable path toward something that feels like freedom.
A novel of great humanity, written with dry wit, edgy humor, and emotional poignancy, Irma Voth is the powerful story of a young woman's quest to discover all that she may become in the unexpectedly rich and confounding world that lies beyond the stifling, observant community she knows."
My Thoughts: Irma Voth is a bit rebellious, determined and not at all living as her Mennonite religion demanded. Of course this bothers her parents, especially her father who has no patience for anyone who is less than obedient. This, at times, has resulted in abuse and the eventual leaving of the family home by the said disobedient child. This was the case with Irma's older sister, herself, and now her sister. Was it so wrong for her to fall for and marry a man of Mexican heritage? After all, it was her father's choice to move the family from Manitoba, Canada to Mexico.
When Irma's husband, Jorge, tells her to stop loving him and leaves, Irma finds herself involved with the film crew which has taken up residence next door. She is needed as a translator for the Mennonite actress from Europe who plays the female lead in the film. She serves well, cooking meals for the crew too. Until her younger sister, Aggie, decides to join her, bringing out her father's wrath upon her and everyone in the vicinity. One can understand his frustration in seeing his children choose a different path from what he and his wife had taught their children. His anger is not totally unforgivable but it is what he does with the anger that chases everyone away, and makes no allies with the reader.
When things climax for Irma's younger sister, Aggie, and her father, Irma takes the film truck, Aggie, and their baby sister, Ximena, (with her mother's insistence) and plans a trip back to Canada. She remembers happier days there and dreams that this move will recall those times again. Will her journey do that? And, if it does, can she go home again?
Irma Voth is a unique look into a relatively unknown people, the Mennonites, and what happens to a family when rebellion shows its face. Interesting, unusual and touching are three words I would use to describe Irma Voth. The one problem that is persistent throughout the novel is the lack of quotations to indicate conversations. It is rather annoying at first, but one can get accustomed to it though it requires more attention to the details of the prose for the reader to keep dialogue, thoughts, and other content straight. At first I thought it was only in my ARC of Irma Voth but I checked the published Irma Voth in store and found the same to be true. Miriam Toews did this in one other book, of which I am aware, A Complicated Kindness (published 2008). However, Summer of My Amazing Luck (2006) uses quotations for dialogue.
There is a surprising amount of language and content (sexual and abuse) mentioned in this book, though not in great detail. Surprising to this reader, as it is the story of Mennonites written by a Mennonite. Warning to sensitive readers.
Irma Voth is not what I expected, but then again, sometimes the unexpected is just what we yearn to read.
About Miriam Toews:

Miriam Toews was born in the small Mennonite town of Steinbach, Manitoba. She has published five novels and a memoir of her father, and is the recipient of numerous literary awards in Canada, including the Governor General's Literary Award (for

A Complicated Kindness

) and the Rogers Writers' Trust Fiction Prize (for

The Flying Troutmans

). In 2010 she received the prestigious Writers' Trust Engel/Findley Award for her body of work.

Irma Voth

is Toews's most recent novel. She lives in Toronto.