In My Mailbox is hosted every week by Kristi at
The Story Siren
. It is a reveal of the new and exciting books and related items that have arrived or we have borrowed in the past week. In My Mailbox (IMM) helps us as book bloggers keep track of new releases and inevitably add to our must read lists.
Today's edition is a compilation of the previous two weeks as the mailbox has been surprisingly empty, which is actually ok since I began working at a book store (say it, you're jealous :}) and I have thousands of new titles to explore all at my fingertips! Loving it!
Here's what's new:
Agatha Christie's Secret Notebooks
by John Curran
I ordered this through Amazon with a gift certificate I won from Bev over at
My Readers Block
(thank you Bev). The note on the cover says this book includes two UNPUBLISHED POIROT Stories! Fifty years of mysteries in the making. I was hoping this book would arrive prior to Agatha Christie's birthday, September 15 for a special post I planned to do, but since it came all the way from Britain, I am just happy to see it in my mailbox today!
My Sweet Saga
by Brett Sills
I received the ARC (mine has no cover and looks like the actual manuscript, yippee!) today as well. My Sweet Saga is Admiral J Press' first release as a new publisher. I am honoured to have the opportunity to review this book for them. This will not influence my review, however. Always honest and unbiased.
Also received today:
This Dark Endeavour
by Kenneth Oppel
This is the much touted new release coming from Harper Collins. Movie rights have already been sold to the producers of TWILIGHT!! How's that for excitement?!! Thank you so much to Cory from Harper Collins for sending me this book! I am revved up to read it!!!
Also thanks to Cory from Harper Collins:
Dead Man's Grip
by Peter James
One Mistake
Two Murders
No Remorse
This is a new release for the fall. I love a good mystery and Peter James is one of the all time best British crime writers. Should be a good one!! By the way, Cory sent me this copy and it is signed by the author!! Woot!
The Guernsey Literary and Potato Peel Pie Society
by Mary Ann Shaffer and Annie Barrows
This is our book club read for the month of October. I bought this book after hearing rave reviews of one of our new members. This promises to be a source of great discussion!
Last Week:
Brainrush (a thriller)
by Richard Bard
Brainrush is author Richard Bard's debut thriller. Thanks to the author and Bostick Communications for sending me this copy. Here's an interesting note the author included with his book:
"If you're a Crosby, Stills & Nash fan, you'll get a kick out of this: I'm a big fan -- always have been -- so imagine my elation a few weeks ago when I received an email from David Crosby telling me that he absolutely loved the story. And he wasn't kidding; he even gave a shout-out at the MUSE benefit concert at the Shoreline Pavilion in SF on August 7th, with the likes of Jackson Brown, Bonnie Raitt, John Hall, Jason Mraz and a bunch of others on the scene. Now that's a brain-rush!"
What's in your mailbox, readers? I hope you will share in the comments or leave a link to your IMM post. I love to hear from all of you!!! :)
------------------------------
Teaser Tuesdays is hosted by Miz B
Should Be Reading
.
TEASER TUESDAYS
asks you to:
Grab your current read.
Let the book fall open to a random page.
Share with us two (2) "teaser" sentences from that page, somewhere between lines 7 and 12.
You also need to share the title of the book that you're getting your "teaser" from … that way people can have some great book recommendations if they like the teaser you've given!
Please avoid spoilers!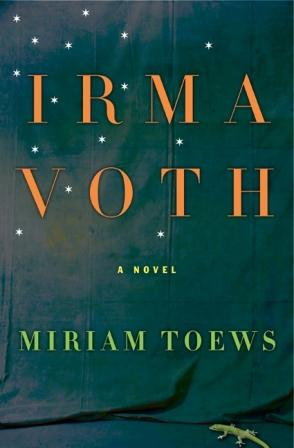 Irma Voth

by Miriam Toews
I am reading this for a TLC book tour, the review for which is scheduled for September 29th, 2011.
"I'm Fiorella, she's Button and you're Ham Hock, said Aggie. We were walking to our gate. We'd only be in Acapulco for two hours and forty-five minutes before we had to catch another flight to Mexico City, heaven and hell, according to Diego, but his world was defined by extremes." ~ page 148, Irma Voth by Miriam Toews
In this scene, Irma and her sister Aggie, both mennonites living in Mexico, are running away from home and feelings of oppression and an abusive father. They have, in tow, their new baby sister, and I do mean new. At their mother's request, the baby accompanies them on this journey to what they hope will be a new and happy life. Where they will live and how, is still unknown....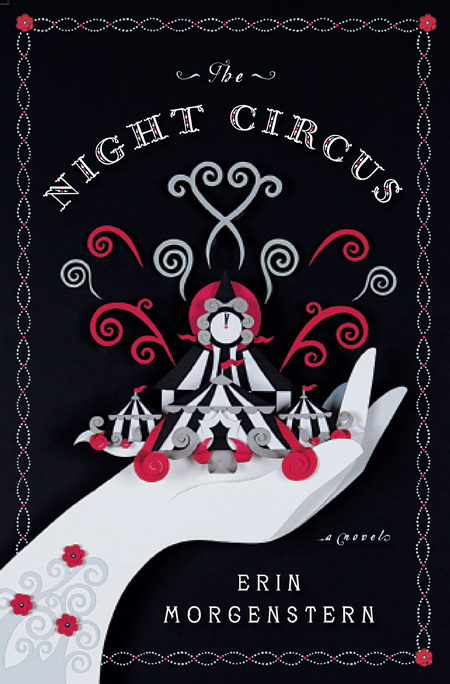 Night Circus by Erin Morgenstern
There is rumour that this book will be such a hit, comparable to Harry Potter and Twilight in sales and popularity!!
"Don't you want to know my name?" the boy asks.
"Names are not of nearly as much import as people like to suppose," the man in the grey suit says. "A label assigned to identify you either by this institution or your departed parents is neither of interest nor value to me. If you find you are in need of a name at any point, you may choose one for yourself. For now it will not be necessary." ~ page 23, Night Circus by Erin Morgenstern
This excerpt takes place in London, January 1874 in a grey nondescript building. A man in a grey suit introduces himself to the headmistress who brings him three children to interview. He does so privately, seeking for the one who will stand out...the one who will be his protege. When the man decides upon a boy and he is ready, the two depart the building and do not return. This excerpt leaves more questions than answers but to provide more is to reveal secrets crucial to the underlying story. I am on the fourth chapter and I can feel that this is one of those books you feel as well as read and that's a good thing.
What are you teasing us with this week? Please comment below so I can repay the visit. Teaser Tuesdays are so much fun!!