Liz Schulte from
Bat Country
with this week's featured question:
Some people like to do it in the office. Others prefer it in bed. Some people like it on the dining room table. Get your mind out of the gutter, I'm asking where you like to write!
I can write just about anywhere if the mood hits. I sometimes wake up at night with a thought and jot it down in the notebook I keep at my bedside. Usually, though, I write while sitting on the couch, feet up, computer on my lap or a scribbler in hand. I've written in the car too. Not so effective with all the bumps and all. Where do you like to write?
1) (Required) You must follow my blog
2) (Required) You must follow the guest poster featured in the blog hop post.
3) Go to
Sharp Words
and copy the image code found there and paste it in your blog. Add your name to the link at the bottom of the post while you are there
4) Copy and paste the rules in your blog, as well as this week's question.
5) Answer the question
6) You must copy these rules, the hop link and the featured question with your answer on your own blog. This blog serves as a place for new followers to say hi.
7) Follow, follow, follow. This is about networking, people, making connections with people in your community. So talk to us. We don't bite!
8) If someone stops by, says hi and follows you, the polite thing to do is follow back.
9) Comment here and introduce yourself and you just might find a new follower or two.
That's it! It's as simple as that!
Question of the
week- I guess this is last week's question but, whatever, here's my answer to that too!
What inspired you to start writing?
Books and my
love, passion,
addiction of them were the beginnings of my writing aspiration. The library was the best thing in the world, aside from horses, when I was little. School assignments brought high praise from the teachers and the desire was born. I always wanted to be a writer, a little passion that remained hidden from most others, to be revealed only occasionally. One year ago, approximately, I decided to start taking it seriously and got caught up in the addiction of blogging. If Julie Powell could do it, why not me? So I began. From one blog about gardening, another of my passions, to a book review blog (this blog), to a family blog and a movie and about town review blog and lastly my writing blog,
There Came a Dream
,which has been rather neglected of late. I love to write but there's that little fear, that doubt, that still holds me back
a little
. Be a dear, read my one chapter, broken into two posts (I am going to fix that, I swear), and give me a little push, "literal" that is. Thanks guys. What inspired you to start writing?
-------------------------------------
"Since today is April Fool's Day in the USA and Canada, what is the best prank you have ever played on someone OR that someone has played on you?"
It isn't much of a trick, really. When I was pregnant with our first child, I was a few days overdue. The morning of April Fools, which was also Good Friday, my water broke and labour began. I tried to wake my husband to let him know we needed to head to the hospital but he rolled over and went back to sleep believing it was an April Fool's joke. The joke was on all of us, our eldest son was born that afternoon. We did make it to the hospital on time because my husband finally believed me! Happy April Fools Day!
------------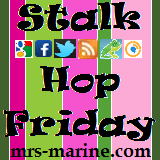 Welcome to Stalk Hop Friday where you can follow several different ways. Just visit
Novel Bloggers
to get your badge, follow me and Novel Bloggers and we will follow back. Please let me know you are a new follower.