Hosted by Kristi at
The Story Siren
,
In My Mailbox is a weekly meme for us bookaholics to share our recent treasures, whether received by mail,
borrowed or purchased; and to drool over others. Do you have your wish lists handy?
This week I received:
"Poet and veteran author Ercell H. Hoffman's new collection of poems captures the full range of emotion that swirls through human relationships as well as conveys the yearning for a sensuous and profound love which each of us, man or woman, shares....
The Lament is about our most basic needs: finding and keeping love and obeying your inner truth."
Love at Absolute Zero
(Received courtesy of the author and Premier Virtual Author Book Tours in exchange for an honest review. Watch for my review October 6 and Author interview October 7)
"Love at Absolute Zero is the story of Gunnar Gunderson, a 32-year old star physicist at the University of Wisconsin. The moment he's given tenure at the university, he can think of only one thing: finding a wife. His research falters into what happens to matter near absolute zero (-459.67F), but he has an instant new plan. To meet his soul mate within three days--that's what he wants and all time can carve out--he will use the Scientific Method. His research team will help. Can Gunnar survive his quest? What happens if and when he goes to Denmark?
The Witch of Babylon
(Thank you to Chrystal of
Snowdrop Dreams of Books and Penguin Group Canada
I won this book courtesy of a contest on Chrystal's blog http://snowdropdreams.blogspot.com)
"The Witch of Babylon features John Madison, a New York art dealer caught up in the aftermath of the looting of the Baghdad Museum. Echoing Dan Brown, the novel includes an elaborate puzzle that must be solved in order to locate a missing biblical antiquity and a spectacular lost treasure, as well as alchemy, murder, and the Mesopotamian cult of Istar. Alternating between war-torn Baghdad and New York, with forays into ancient Mesopotamian culture, The Witch of Babylon takes readers deep inside the world of Assyriology and its little-known but profound significance for the modern world."
(Thank you to Sheila over at Book Journey. I won this copy there.)
"A mind-bending code hidden in the works of Leonardo Da Vinci.
A desperate race through the cathedrals and castles of Europe.
An astonishing truth concealed for centuries...unveiled at last."
The Power of Six
by Pittacus Lore
(I requested and received a copy for review from the publisher, Harper Collins Canada Ltd. Thank you Shannon!)
They are getting closer.
They are tracking us.
They know about the charm.
They know about our legacies.
They know too much for us to believe
We will ever be safe again.
We must find eachother.
We must unite.
We must fight and we must win.
We are the last defence.
Twelve Drummers Drumming (A Mystery)
by C.C. Benison
(I won this ARC from Good Reads)
"Introducing Father Tom Christmas, the wise, warmhearted new vicar of a picturesque English village that seems to be a haven of peace. But appearances can be very deceiving. . Thornford Regis has never been lovelier: larks on the wing, lilacs in bloom, and the May Fayre in full swing. But inside the empty village hall, the huge Japanese

o-daiko

drum that's featured in the festivities has been viciously sliced open—and curled up inside is the bludgeoned body of Sybella Parry, the beautiful nineteen-year-old daughter of the choir director."(from Random House Publishers site)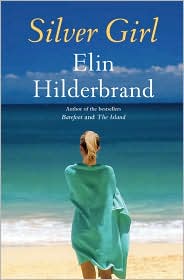 Silver Girl
by Elin Hilderbrand
(I won this hard cover copy from fReado)
"Meredith Martin Delinn just lost everything: her friends, her homes, her social standing - because her husband Freddy cheated rich investors out of billions of dollars.
Desperate and facing homelessness, Meredith receives a call from her old best friend, Constance Flute. Connie's had recent worries of her own, and the two depart for a summer on Nantucket in an attempt to heal. But the island can't offer complete escape, and they're plagued by new and old troubles alike. When Connie's brother Toby - Meredith's high school boyfriend - arrives, Meredith must reconcile the differences between the life she is leading and the life she could have had.
Set against the backdrop of a Nantucket summer, Elin Hilderbrand delivers a suspenseful story of the power of friendship, the pull of love, and the beauty of forgiveness. (from Barnes & Noble)
Irma Voth
by Miriam Toews
(I am participating in a virtual book tour for this title and received a complimentary ARC to facilitate that. Courtesy of the publisher, Harper Collins. Thank you Danielle!)
Considered #14/18 books to watch for in September 2011 by staff at Oprah.com.
"
That rare coming-of-age story able to blend the dark with the uplifting, Irma Voth follows a young Mennonite woman, vulnerable yet wise beyond her years, who carries a terrible family secret with her on a remarkable journey to survival and redemption.
Nineteen-year-old Irma lives in a rural Mennonite community in Mexico. She has already been cast out of her family for marrying a young Mexican ne'er-do-well she barely knows, although she remains close to her rebellious younger sister and yearns for the lost intimacy with her mother. With a husband who proves elusive and often absent, a punishing father, and a faith in God damaged beyond repair, Irma appears trapped in an untenable and desperate situation. When a celebrated Mexican filmmaker and his crew arrive from Mexico City to make a movie about the insular community in which she was raised, Irma is immediately drawn to the outsiders and is soon hired as a translator on the set. But her father, intractable and domineering, is determined to destroy the film and get rid of the interlopers. His action sets Irma on an irrevocable path toward something that feels like freedom.
A novel of great humanity, written with dry wit, edgy humor, and emotional poignancy, Irma Voth is the powerful story of a young woman's quest to discover all that she may become in the unexpectedly rich and confounding world that lies beyond the stifling, observant community she knows."
Purchases:
An Unsuitable Job for a Woman
(this is not the same cover but it is somewhat similar)
"Sir Ronald Callender's son Mark is found hanged in mysterious circumstances. Cordelia Gray, now the sole proprietor of the Pryde Detective Agency, has been hired by Sir Ronald to shed some light on the reasons for Mark's apparent suicide.
As Cordelia pieces together the facts surrounding the death and delves back into the long-buried secrets of the Callender family, she finds that Mark had many good friends -- and one deadly enemy."
The Bookfair Murders
"The story opens at the annual Frankfurt International Bookfair, where editors and publishers meet annually to wheel, deal and schmooze. At the biggest and most glittering party, Marsha Hillier realizes as she's trying to chat up literary agent Andrew Myles, that he's slumped in his wing-chair, quite dead.
Marsha and everyone else at the party are immediately questioned as suspects, and the plot is underway! Mystery buffs will adore this sexy and hilarious romp through the world of publishing."
A Painted House
"Until that September of 1952, Luke Chandler had never kept a secret or told a single lie. But in the long, hot summer of his seventh year, two groups of migrant workers--and two very dangerous men--came through the Arkansas Delta to work the Chandler cotton farm. And suddenly mysteries are flooding Luke's world. A brutal murder leaves the town seething in gossip and suspicion. A beautiful young woman ignites forbidden passions. A fatherless baby is born...and someone has begun furtively painting the bare clapboards of the Chandler farmhouse, slowly, painstakingly, bathing the run-down structure in gleaming white. And as young Luke watches the world around him, he unravels secrets that could shatter lives--and change his family and his town forever..."
The Closers
"He walked away from the job three years ago. But Harry Bosh cannot resist the call to join the elite Open/Unsolved Unit. His mission: solve murders whose investigations were flawed, stalled, or abandoned to L.A.'s tides of crime. With some people openly rooting for his failure, Harry catches the case of a teenager dragged off to her death on Oat Mountain, and traces the DNA on the murder weapon to a small-tome criminal. But something bigger and darker beckons, and Harry must battle to fit all the pieces together. Shaking cages and rattling ghosts, he will push the rules to the limit--and
expose the kind of truth that shatters lives, ends careers, and keeps the dead whispering in the night..."
A Bend in the Road
"Miles Ryan's life seemed to end the day his wife was killed in a hit-and-run accident two years ago. As deputy sheriff of New Berfn, North Carolina, he not only grieves for her and worries about their young son Jonah but longs to bring the unknown driver to justice."
What's in your mailbox this week? Please leave an answer or a link to your post in the comment section below so I may return the visit!
Have a terrific week everyone!