Sisters Brothers
by Patrick Dewitt
In the Garden of Beasts
by Erik Larson
A mild-mannered professor from Chicago, Dodd brings along his wife, son, and flamboyant daughter, Martha. At first Martha is entranced by the parties and pomp, and the handsome young men of the Third Reich with their infectious enthusiasm for restoring Germany to a position of world prominence. Enamored of the "New Germany," she has one affair after another, including with the suprisingly honorable first chief of the Gestapo, Rudolf Diels. But as evidence of Jewish persecution mounts, confirmed by chilling first-person testimony, her father telegraphs his concerns to a largely indifferent State Department back home. Dodd watches with alarm as Jews are attacked, the press is censored, and drafts of frightening new laws begin to circulate. As that first year unfolds and the shadows deepen, the Dodds experience days full of excitement, intrigue, romance--and ultimately, horror, when a climactic spasm of violence and murder reveals Hitler's true character and ruthless ambition. (Amazon.com)
The Art of Fielding: A Novel
by Chad Harbach
IQ84
by Haruki Murakami and Jay Rubin
A love story, a mystery, a fantasy, a novel of self-discovery, a dystopia to rival George Orwell's—1Q84 is Haruki Murakami's most ambitious undertaking yet: an instant best seller in his native Japan, and a tremendous feat of imagination from one of our most revered contemporary writers. (Amazon.com)
What It's Like to to Go to War
by Karl Marlantes
In 1968, at the age of twenty-three, Karl Marlantes was dropped into the highland jungle of Vietnam, an inexperienced lieutenant in command of a platoon of forty Marines who would live or die by his decisions. Marlantes survived, but like many of his brothers in arms, he has spent the last forty years dealing with his war experience. In What It Is Like to Go to War, Marlantes takes a deeply personal and candid look at what it is like to experience the ordeal of combat, critically examining how we might better prepare our soldiers for war. Marlantes weaves riveting accounts of his combat experiences with thoughtful analysis, self-examination, and his readings—from Homer to The Mahabharata to Jung. He makes it clear just how poorly prepared our nineteen-year-old warriors are for the psychological and spiritual aspects of the journey.

Just as Matterhorn is already being acclaimed as acclaimed as a classic of war literature, What It Is Like to Go to War is set to become required reading for anyone—soldier or civilian—interested in this visceral and all too essential part of the human experience. (Amazon.com)
Half Blood Blues
by Esi Edugyan
(Amazon.com)
The Marriage Plot
by Jeffrey Eugenides
Are the great love stories of the nineteenth century dead? Or can there be a new story, written for today and alive to the realities of feminism, sexual freedom, prenups, and divorce? With devastating wit and an abiding understanding of and affection for his characters, Jeffrey Eugenides revives the motivating energies of the Novel, while creating a story so contemporary and fresh that it reads like the intimate journal of our own lives. (Amazon.com)
The Cat's Table
by Michael Ondaatje
In the early 1950s, an 11-year-old boy in Colombo boards a ship bound for England. At mealtimes he is seated at the "cat's table"—as far from the Captain's Table as can be—with a ragtag group of "insignificant" adults and two other boys, Cassius and Ramadhin. As the ship makes its way across the Indian Ocean, through the Suez Canal, into the Mediterranean, the boys tumble from one adventure to another, bursting all over the place like freed mercury. But there are other diversions as well: One man talks with them about jazz and women, another opens the door to the world of literature. The narrator's elusive, beautiful cousin Emily becomes his confidante, allowing him to see himself "with a distant eye" for the first time, and to feel the first stirring of desire. Another cat's table denizen, the shadowy Miss Lasqueti, is perhaps more than what she seems. And very late every night, the boys spy on a shackled prisoner, his crime and his fate a galvanizing mystery that will haunt them forever.

As the narrative moves between the decks and holds of the ship and the boy's adult years, it tells a spellbinding story—by turns poignant and electrifying—about the magical, often forbidden discoveries of childhood and a lifelong journey that begins unexpectedly with a spectacular sea voyage. (Amazon.com)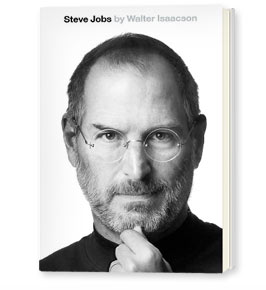 Steve Jobs
by Walter Isaacson
Based on more than forty interviews with Jobs conducted over two years—as well as interviews with more than a hundred family members, friends, adversaries, competitors, and colleagues—Walter Isaacson has written a riveting story of the roller-coaster life and searingly intense personality of a creative entrepreneur whose passion for perfection and ferocious drive revolutionized six industries: personal computers, animated movies, music, phones, tablet computing, and digital publishing.
At a time when America is seeking ways to sustain its innovative edge, and when societies around the world are trying to build digital-age economies, Jobs stands as the ultimate icon of inventiveness and applied imagination. He knew that the best way to create value in the twenty-first century was to connect creativity with technology. He built a company where leaps of the imagination were combined with remarkable feats of engineering.
Although Jobs cooperated with this book, he asked for no control over what was written nor even the right to read it before it was published. He put nothing off-limits. He encouraged the people he knew to speak honestly. And Jobs speaks candidly, sometimes brutally so, about the people he worked with and competed against. His friends, foes, and colleagues provide an unvarnished view of the passions, perfectionism, obsessions, artistry, devilry, and compulsion for control that shaped his approach to business and the innovative products that resulted.
Driven by demons, Jobs could drive those around him to fury and despair. But his personality and products were interrelated, just as Apple's hardware and software tended to be, as if part of an integrated system. His tale is instructive and cautionary, filled with lessons about innovation, character, leadership, and values. (Simon & Schuster)
Steve Jobs admitted that "everything he did correctly had required a moment when he hit the rewind button. In each case he had to rework something that he discovered was not perfect. "If something isn't right, you can't just ignore it and say you'll fix it later," he said. "That's what other companies do." And that way of thinking is what helped differentiate him from others, and Apple from other companies.
Regardless of your opinion of the man, the product, or the company, Steve Jobs, the biography, is a book you really should read. It is enlightening and will make you think, contemplate, and appreciate the great minds of our time.
Hot Art
by Joshua Knelman
The Thomas Crown Affair meets The Devil in the White City in this fast-paced, character-driven story that breaks open the secrets of international art theft

A major work of investigative journalism, Hot Art is also Joshua Knelman's tale of the young reporter chasing a story idea that turns out to be a globe-trotting mystery, filled with cunning and eccentric characters: art thieves who threaten and then befriend him, gallery owners who avoid him, FBI agents and senior detectives who tolerate him, and art lawyers who embrace him in their ongoing fight to sound the alarm about the disturbing secrets of art dealership vis a vis the black market and how it is exploding around the world, unchecked and unregulated.

Knelman befriends the slippery Paul, a skilled art thief, and Donald Hrycyk, who works on a shoestring budget in downtown L.A. to recover stolen art. Through alternating chapters focusing on Paul and Don, the story of a thief and a detective unfolds, in the process revealing the dramatic rise of international art theft. And in a surprise ending, Knelman learns that corruption can appear in the unlikeliest places. (Amazon.com)
----Are any of these on your reading list?----